Description
Q-Star Tour Performance Pack Golf Balls
Ultra Soft Feel.
The new Q-Star Tour is a premium, lower-compression, 3-piece golf ball with a urethane cover. It was especially designed for skilled golfers with moderate swing speeds who demand the performance and feel of a tour ball. The lower compression of the Q-Star Tour makes it easier to compress so more golfers can achieve optimal distance on full shots. However, golfer will most appreciate the tremendous iron distance and the tour-caliber greenside spin control that the Q-Star Tour delivers. The Q-Star Tour is further confirmation of our commitment to offering a line of golf balls that benefits golfers of every skill level.
Features
Advanced, lower compression core construction makes it easier to compress with lower driver spin for impressive distance and accuracy on full shots.
SpinSkin coating provides soft feel and enhanced greenside spin control.
324 Speed Dimple pattern improves flight performance for longer distance with more control.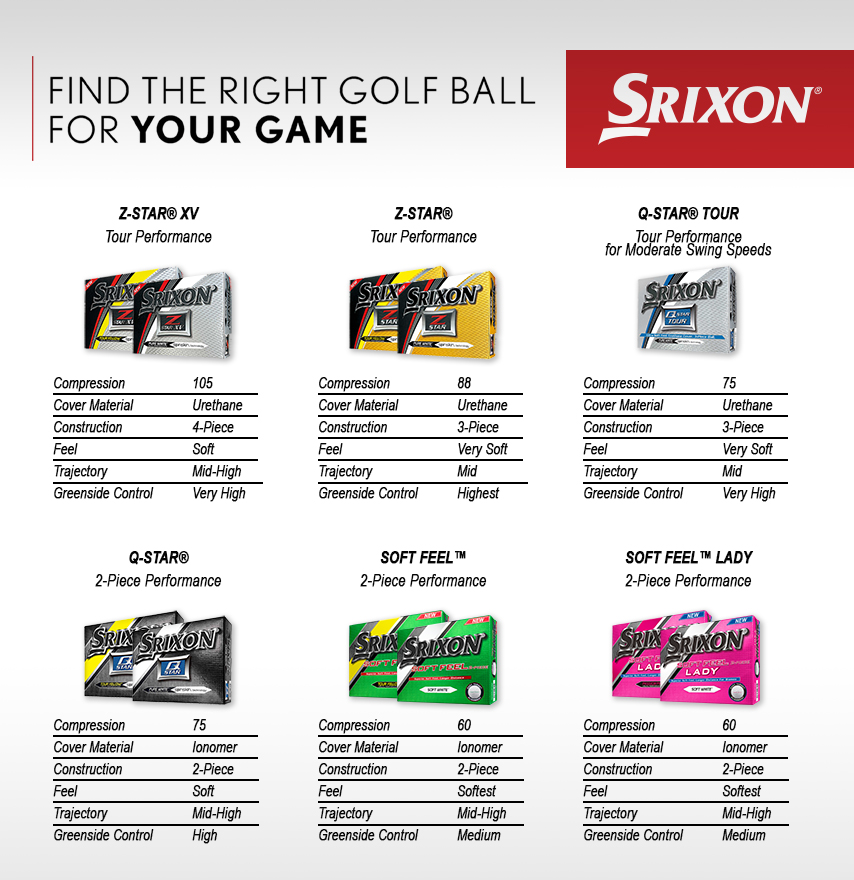 Reviews
Great Golf Ball Smoking Hot Deal
This is about the third time i purchased golf balls from Golf Discount. Supper fast delivery. This Srixon is a great ball especially for seniors with slower swing speeds. I'm a 5 handicap and i like this ball for distance and it has good check on the greens.
Awesome Golf Ball
These are the best golf balls out there for me. The distance and accuracy for very consistent. Great feel and control. I highly recommend these golf balls to everyone.
Excellent balls for a great price
These are very good balls at an unbelievable price.
Great ball for slower swings
Great ball for slower swings Great bite on greens
Great Ball Great Price
Awesome performance for slower swing speeds
sample pack
My favorite ball and basically half price. No brainer.
Good ball
Good quality ball and great price
great ball / great value
Great ball for those whose swing is not at tour level at a very good price.
Very good. Excellent price
Very good. Excellent price
Srixon Q Star Tour
Only played two rounds, appears to be a great ball for my slower as I've gotten older swing speed. Glad I purchased them when they were BOGO !
Great price, great product, great
Great price, great product, great service as always with golf discount.
Srixon Q-Star Tour Balls
It is everything that it says on the box. Love these balls -- softer, spins, and distance.
They perform very well with
They perform very well with my reduced swing speed - I'm seventy-six years old.
For the money these balls
For the money these balls are the best choice
2018 QSTAR Pro OK
At 64 with a 15 handicap, my swing is slow. I liked the lower cost but with urethane cover of the Tour QSTAR. Seems to perform like other urethane covers around the greens which I like. Like all urethane covers, they seem to get dirtier that ionomer. After about 27 holes it appears the cover wears slightly, like other urethane balls. I did not notice any gain or loss in distance, but I do not play the same course all the time so I don't have the same holes all the time to judge how long I am hitting it.
Great feel and performance.
Great feel and performance.
Srixon Q star tour
Great ball and wonderful around the green
Srixon Q Star Tour ball
Great ball at an exception price!
Great Ball for Moderate Swing Speed
Very happy with the Sxiron Q-Star Tour golf ball. As a senior, I get good distance, straight flight and putting performance. Good spin hitting into the green and excellent durability. Great price and timely delivery service from Golf Discount.
New 'go-to' ball Srixon Q-Star Tour
Picked up a dozen of these early last golf season. Supposed to be a better ball for slower swing speed. It goes farther off drives with my sub-90 mph swing speed. Cover is soft giving the ball good spin and stopping power on shots into greens. Checks up nicely on pitches and chips. Putts softly and feels great off putter face. Because of these attributes, I bought a whole bunch more. Cost of the ball is a great value as well. Ball received 'gold rating' by Golf Digest and was rated top ball in price class of $20-30 / dozen balls. If you have a sub-90 mph swing speed, give this ball a try. Think you'll like it a lot.
Srixon Q Star Tour
The Srixon Q Star Tour is one of the best values in todays golf ball market. This favorably priced ball is very good off tee and very controllable around the green. Highly recommended.
Great golf balls;great price
Srixon Q Star Tour balls are everything Pro V1 balls are at a much better price.
Good merchandise .. good prices..good
Good merchandise .. good prices..good service
Great Ball
My go to ball when the weather is too warm for a Callaway Super Soft
srixon golf balls
very fast shipping and great prices
wolfpacker
great price on a even greater ball. excellent ball for medium swing speed player. .soft and stoppable.
Shipping