Description
Soft Feel Golf Balls
Superior Soft Feel. Longer Distance.
Now in its 10th generation, the new Srixon Soft Feel golf ball provides even better feel on all shots, improved greenside spin and incredible distance and accuracy from tee to green.
Features
Softer, lower compression core provides softer feel on all full shots without sacrificing the incredible distance and accuracy from tee to green.
Softer, thinner cover provides more greenside spin and softer feel on all pitches, chips and putts.
Advanced core construction promotes seamless energy transfer to maximize distance and optimize ball performance on every shot.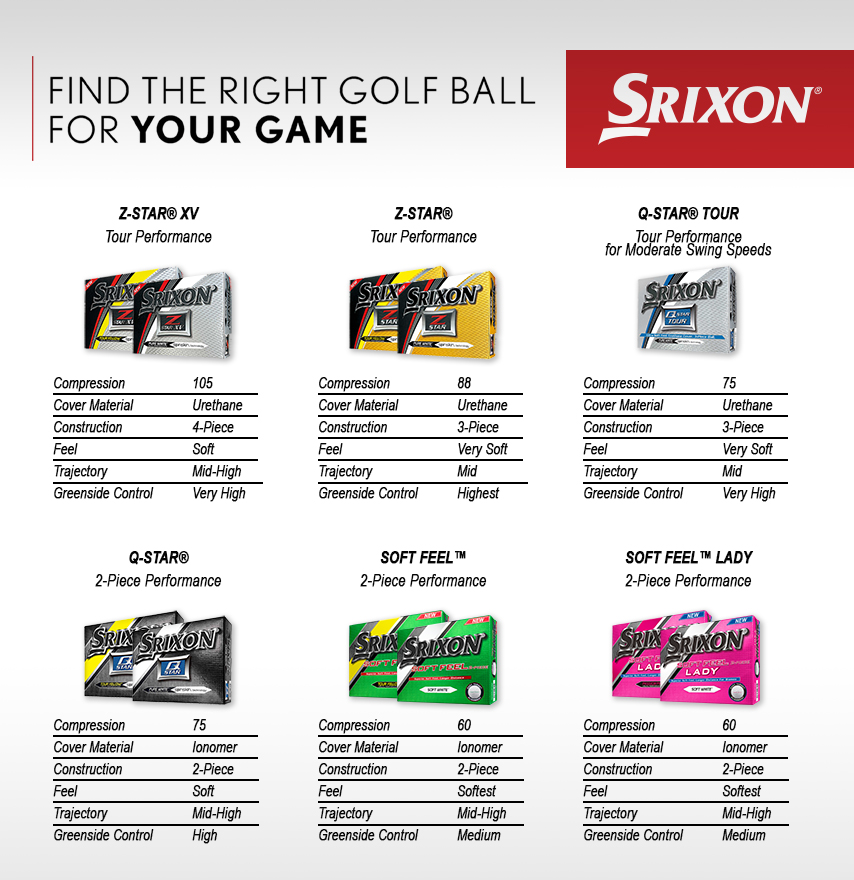 Reviews
Srixon Soft Feel Golf Balls
Great soft ball. As long as any other ball I have tried, for much less cost.
Great balls (of fire)
I like the feel of these coming off the club. I've played with just about every ball Srixon makes and these are the best ones yet.
Srixon
On time. Right price. Just what I ordered. Will buy again.
Great Golf Balls
I've been hitting Srixon golf balls for 2 years now. Great forgiveness on mishits due to low spin and still allows for good distance. Highly recommend for the average to high handicap golfers.
Stixon soft feel golf balls
Great Ball
These golf balls have always been my favorite. The sale price made them vertily free!
Great Ball
Great price on these I probably should have bought 10 dozen instead of 5. Being a little older swing speed not what it use to be I find with these balls I get a little more distance with good feel on the greens.
Srixon soft feel
Excellent feel around the green and longer distance than Bridgestone 330 RXS. Great golf ball!
Srxion Soft Feel
These are the balls I usually play.Half price was a great deal!
balls are good my game
balls are good my game sucks
Great service
Haven't had a chance to use the golf balls, but the prices were hard to beat!
Shipping