Description
Personalization Guidelines
Text is printed in all caps, block letters.
Special characters or emojis are not allowed.
Please refrain from using explicit language or profanity. Trademarked references will not be accepted. Manufacturers reserve the right to decline orders.
For orders over 12 dozen, please call our customer service team at 1-800-394-4653 for bulk discounts.
Personalized golf balls cannot be returned for refund or exchange.
Soft Feel Personalized Golf Balls
Longer Distance
Energetic Gradient Growth Core
Softer near the center and gradually firmer around the perimeter, Soft Feel's Energetic Gradient Growth Core feels soft while maximizing ball speed. Tuned to a woman's swing, Soft Feel Lady's core launches higher for an easier launch with more carry.
388 Speed Dimple Pattern
The same pattern used on tour by Srixon staffers, our 338 Speed Dimple pattern increases distance by reducing drag and is especially effective in windy conditions.
Durable, Soft Cover
Soft Feel Lady's Ionomer Cover is remarkably thin and soft, producing ample spin for more control on your greenside shots.
Specifications
2 piece construction
Ionomer cover material
0.063" cover thickness
60 compression
338 dimples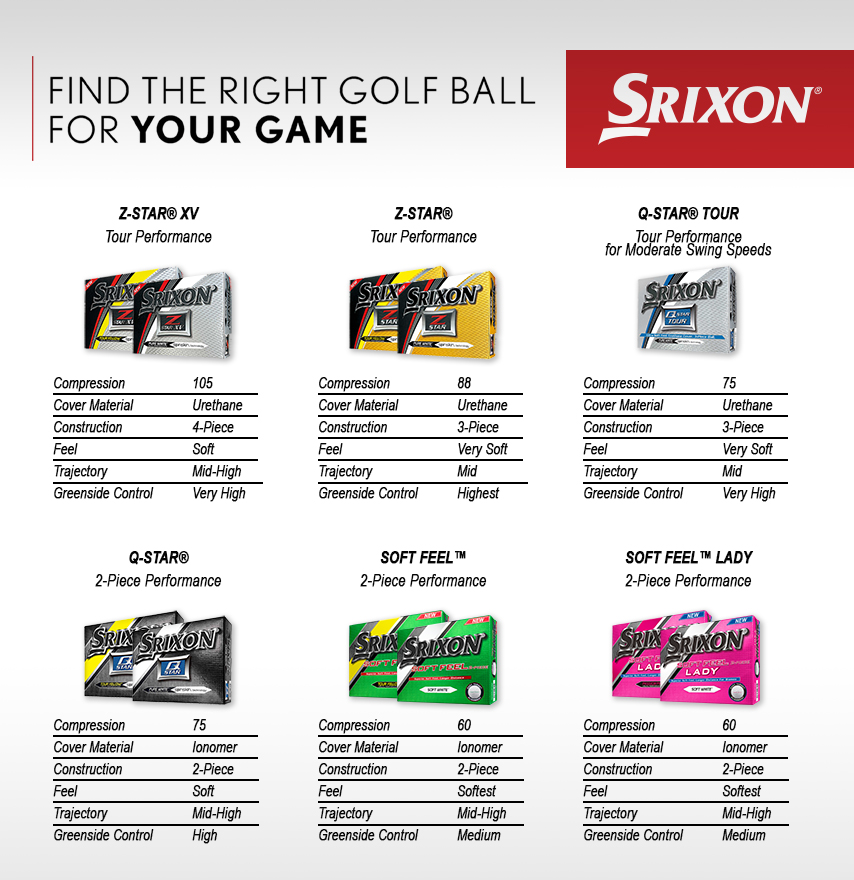 Reviews
I like the balls very
I like the balls very much. They are very consistent with feel and length.
Letters last longer than it takes me to dump them in water.
Srixon is a great ball. My only complaint is how long it can take them to personalize and ship. My first order took about 3 weeks. This time it's taken almost twice that and I'm still waiting.
My Own Balls
Love price & quality!
Srixon Soft Feels
Best ball on the market! Try it! Great spin control all around the green.
The purchase and delivery were
The purchase and delivery were smooth and fadt
Low compression for slower swing speed
These go about as far as Pro V1s for those of us with slower swing speeds but have a nice soft feel on those short iron shots and feel nice coming off the putter.
Soft feel greater distance
The Srixon Soft Feel golf ball has been my choice for some time now. I was pleased when I saw the opportunity to purchase 3 doz at $19.99 each and get a 4th doz free! Adding my name to the ball was a bonus.
BONNE TERRE VFW GOLF TOIRNAMENT
We bought these to put in our goodie bags for the players to show our appreciation of their support of our POST 6883.
Shipping