Distance-oriented for discerning players, Srixon Z 545 irons combine hot flight and incredible feel in a slightly larger, more forgiving cavity-back profile.
Z 545 Irons
For Every Player.
SUP10 Steel Face
Increases COR for higher ball speed. Iron bodies are forged from ultra-soft 1020 carbon steel.
Tour V.T. Sole
Redesigned sole helps tighten shot dispersion with less turf resistance through impact. Tungsten toe weighting in 3-6 irons to improve the center of gravity.
Double Laser Milling
Increases surface roughness for additional spin and trajectory control in all conditions.
Player Type: All ability
Launch: Mid-High
Shaft: True Temper Dynamic Gold Steel
Grip: Lamkin UTx Full Cord Red
Specifications: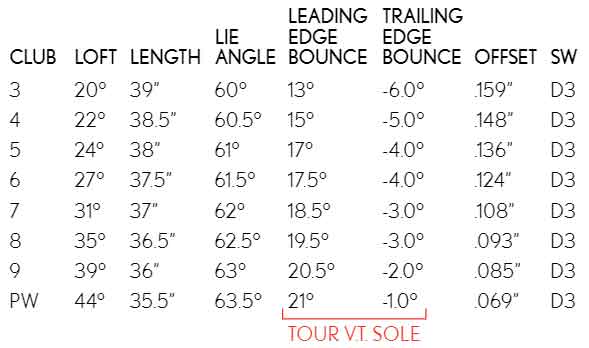 Srixon Z 545 Irons Expert Review
Written By: Bob Gomavitz
---
The Takeaway
Like the Z 745, the Z 545 are forged from 1020 Carbon Steel for that special feel. Both incorporate the Tour V.T. Sole which increases the leading edge and decreases the trailing edge, reducing turf resistance and tightening shot dispersion. The Z 545 uses SUP10 Steel Face over the 1020 Carbon Steel bodies to enhance distance, while the Carbon Steel bodies provide that premium smooth feel. The 3-6 Irons feature a tungsten toe weight to optimize the Center of Gravity. Srixon calls the Z 545 a Distance-Oriented head for "All Ability" Players.
Who's It For?
I would have said in the past that Game Improvement irons are more for 18+ handicappers. Purists most likely will still walk by this section in the stores, but so be it. Now, pretty much any type of player can play this class of Game Improvement irons without hesitation, and there is one main reason. What held back the better players in previous years from using this class of iron was the hot spots, or jumpers as they're called, which creates inconsistent distances from the same club number. The OEM's have done a fabulous job correcting this issue with better technology in head and groove design.
Final Take
I found both of the Srixon versions interesting, especially the technology of the V.T. sole. I am more on the non-digging side and would love to see a digger with the Z 545 in their hands. Cavity design interesting base on positioning of the weight. The Z 545 positions more of the weight in the center of the cavity (which is normal) and towards the heel. Typically, the center and the toe area of the cavity are the main focus for weight distribution. In saying this I found the Z 545 to be a great feeling head that is more compact and very clean at address for this "All Ability" head. Balls flight was more on the low side I felt. I also liked the stock grip choice of the Lampkin UTx Red grip.
Club Tested: 6-Iron; Shaft: PX; Loft: 27°
Read the 2015 Game Improvement Irons Guide