When TaylorMade set out to design M2 irons, their focus was to achieve maximum distance without sacrificing the peak trajectory. The advanced materials and technologies that went into M2 irons enable the ball to not only go far, but high as well.
M2 Irons
Real Innovation. Unreal Distance.
The M2 irons are the embodiment of TaylorMade Golf's pursuit to equip golfers with both maximum distance and playability in a game improvement iron. Designed for golfers who would benefit from an iron that prioritizes both distance and trajectory, while also delivering great forgiveness and feel, the M2 iron is designed for complete performance. By pushing the boundaries of innovation, the engineers behind M2 created a dominant blend of distance, peak trajectory, look, sound and feel that will give many golfers performance they didn't know they were missing.
In creating the M2 irons, engineers employed many innovative features, including a new, proprietary fluted hosel, 360° undercut, Inverted Cone Technology (ICT), a new 3D badge and the company's patented Speed Pocket technology.
A significant amount of mass is trapped in the hosel of all irons. To position the center of gravity low in the M2 iron, TaylorMade's engineers utilized a new fluted hosel design to remove discretionary mass from the hosel, redistributing it lower and further back in the clubhead. The M2 iron also features an advanced topline construction – a 360° undercut that functions to increase the unsupported face area while saving weight to lower the CG, creating a canvas that lends itself to a unique combination of high ball speed, optimized launch angle and spin rate which yields exceptional distance and high peak trajectory.
While the fluted hosel and 360° undercut are the pathways to distance, speed and higher ball flight are achieved through the incorporation of a newly designed Speed Pocket and a thin face with Inverted Cone Technology. First found in the RocketBladez irons in 2012, the Speed Pocket is one of TaylorMade's most revolutionary technologies, engineered to increase launch angle and ball speed while providing added forgiveness for shots struck low on the face.
M2 irons employ a 3D badge to manage sound and feel – a considerable challenge in an iron that produces this much ball speed – that features multi-material V-shaped struts to improve sound qualities and dampen unwanted vibrations. To accomplish this, the badge was designed to be extremely stiff without inhibiting ball speed, a balancing act that our engineers were able to execute flawlessly. Together, these product innovations work to push the limits of distance performance in an iron to successfully deliver golfers tremendous distance and high peak trajectory in a product that has the potential to change the landscape of distance irons as we know it.
"The materials and technologies that went into the M2 iron allowed us to combine metalwood-like launch conditions with exceptional shot height and excellent control and feel," said Tomo Bystedt, Director of Iron Product Creation. "In M2, we've achieved maximum distance and peak trajectory metrics to an extent that even shocked those of us who designed and engineered it."
Overview
The large, unsupported, thin face and new Speed Pocket enable ball speeds that push the limits of distance performance in an iron.
By employing three unique weight-savings features – L-shaped toe design, 360° undercut, and new thick-thin fluted hosel – the center of gravity is positioned ultra-low. This allows for stronger lofts without sacrificing peak trajectory, resulting in long, playable shots from each iron.
New V-shaped badge provides excellent sound, while dampening unwanted vibrations for improved feel.
Specifications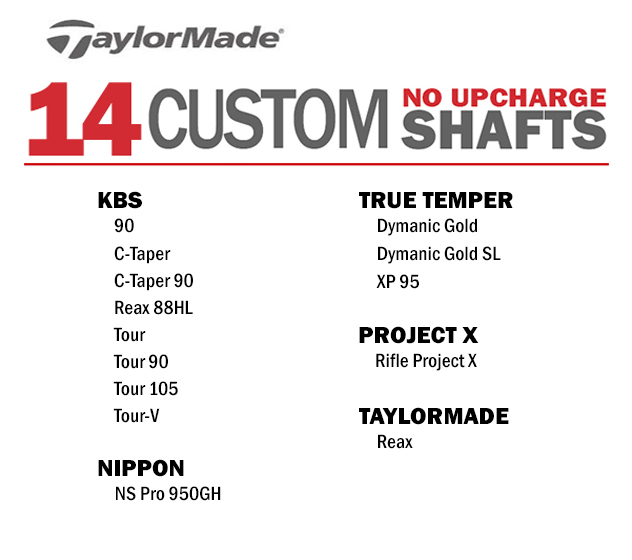 TaylorMade M2 Irons Expert Review
Written By: Bob Gomavitz
---
The Takeaway
The new M2 Irons feature a Thick-Thin Fluted Hosel design that removes 3 grams of weight from the hosel. That weight is then distributed as low as possible throughout the head to lower the CG and promote higher launch and greater ball speeds. The 360 Degree Undercut expands the unsupported face area for more ball speed across the face, while also removing weight from the topline to create an Ultra-Low CG. In turn, this allows stronger lofts to maximize distance without sacrificing the high peak trajectory. Speed Pocket works in conjunction with the Thin Face Inverted Cone Technology to enable fast, consistent ball speeds across the face. The 3D Badging System is extremely stiff, but manages sound and eliminates unwanted vibrations for superior feel.
Who's It For?
The M2 iron is all about distance with the new design that allows stronger lofts without creating elevation issues. In the end, this is more of a Game Improvement/Super Game Improvement head that will appeal to those with mid to higher handicaps.
Final Take
This head is shaped like so many of the past TaylorMade head designs, but with some new features. A thicker top line and slightly larger offset head size is complemented by a high polished black colorway. The distance of these irons stood out, and rightfully so with the 7 iron loft of 28.5 degrees. The head felt very solid, without any clicking noise (feel) that comes with many of the GI/SGI type of heads. The ball flight was about right for a 7 iron, even though the loft is more like a strong 6 iron. Overall, a very easy to swing club that should be looked at if you're in the market for a new set of Game Improvement Irons.
Club Tested: 7 Iron Shaft: KBS Tour 105; Flex: Stiff; Loft: 28.5°
Read the 2016 Game Improvement Irons Guide