Description
M4 Combo Irons
Straight Distance
Get the most out of your equipment with a Rescue/iron combo set. By replacing your long irons with forgiving and versatile hybrid clubs and taking advantage of RibCOR technology in your mid and short irons, you can reach your target and start sticking pins with greater consistency.
Irons Technology
RibCOR Technology
A breakthrough innovation in irons performance; RibCOR is designed to help you hit it LONGER, HIGHER, and STRAIGHTER. RibCOR localizes face flexibility, transferring more energy to the ball to increase ball speed and promote straighter shots.
Speed Pocket
Speed Pocket technology improves low-face flexibility to deliver more ball speed in the key area where golfers commonly mis-hit.
Face Slots
Face Slots enhance face flexibility in the heel and toe areas to preserve ball speed on mis-hits for greater consistency.
Low CG Design
The Fluted Hosel and 360° Undercut technologies produce discretionary weight that has been relocated low in the clubhead to improve launch, spin, and forgiveness.
Rescue Technology
Divide and Conquer the Course
M4 Rescue has been designed with split internal weights that increase forgiveness and promote more ball speed across the face—helping golfers find the center cut with greater consistency.
Speed Pocket
Speed Pocket technology preserves ball speed on low-face shots, providing added forgiveness and consistent distance.
Geocoustic
Geocoustic technology enhances the playability and feel of the M4 Rescue, delivering exceptional shotmaking ability from any lie.
Specifications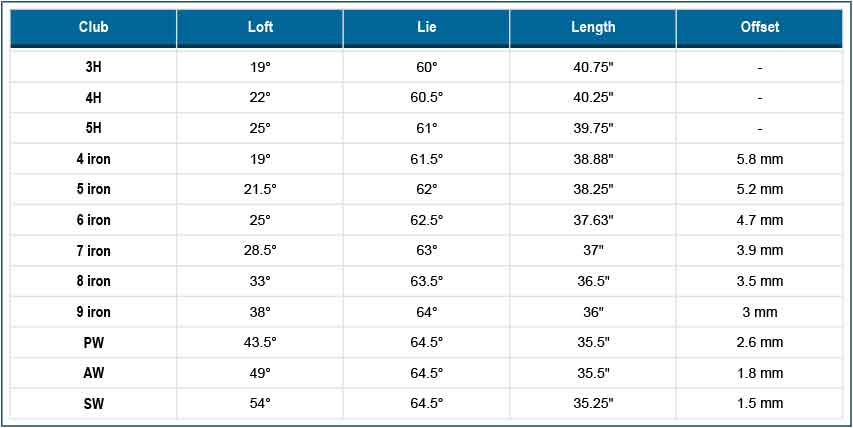 Reviews
New full set M4 irons, driver and 3 wood
These clubs have already made a phenomenal difference in my game. The 3 wood was always my bane, but I hit longer AND straighter with it, very forgiving even on a mishit - seemed to autocorrect! The 5 iron in particular was a great improvement! Not yet entirely dialed in on the driver, think teeing up a bit higher will help, but it hits long and straight. All in all, since I had par on the entire 18 holes first time out with them, I'd say they are truly adding at least 20% longer hits to my game. I'm just thrilled! Highly recommend them.
Excellent Irons for Mid to High Handicapper
Love these clubs. Made the change after using a major competitor for almost 35 years. Glad I did. Seems like I have sacrificed some distance but gained a lot more control.
Shipping