The TaylorMade M5 Driver takes speed and forgiveness to a whole new level with a Speed Injected Twist Face and inverse T-Track.

TaylorMade M5 Driver
Speed Injected, Personalized Performance
Every TaylorMade M5 driver head has been individually injected with tuning resin to reach performance levels at or near the legal limit of C.O.R. Whether you're fighting for your club championship or battling it out in your weekend match, you'll be playing with a driver that's engineered to make every golfer faster.
Speed Injected™
Every head is individually speed tested and injected with tuning resin, optimizing COR across the entire face
The Speed Injection process is designed to maximize ball speed and distance in the M5 driver, achieving performance at or near the legal limit
Twist Face™
Revolutionary face curvature with a corrective face angle on off-center hits, engineered to reduce side spin and deliver straighter shots
Twist Face provides more loft in the high toe and less loft in the low-heel to produce more consistent spin where golfers commonly mis-hit
As Tiger Woods said, "At the end of the day it's a game of misses. You're not going to hit every shot perfect...You have to be able to manage your misses. Anytime you have a proudct that helps you manage your misses is a superior product."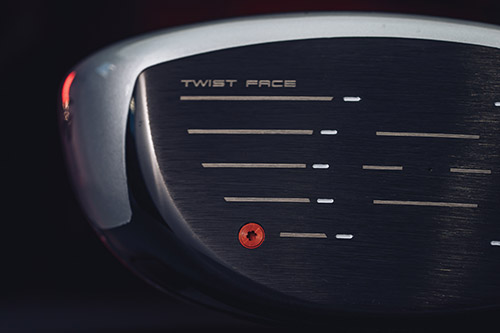 Inverse T-Track
The new, more efficient Inverse T-Track enables two 10g weights to be maneuvered for optimal spin and trajectory
The inverted design allows the weight to be positioned further back along the perimeter of the club, lowering the CG and increasing MOI/forgiveness
Hammerhead 2.0
The new, more flexible Hammerhead slot works in conjunction with Speed Injected Twist Face to produce a larger sweet spot and preserve ball speed on off-center strikes