Description
Details
R15 460 TP Driver
Made of Greatness.
Technology:
Employs proven TaylorMade metalwood technologies that have been newly optimized (ICT, Thick Thin, moveable weight, loft sleeve). Low forward CG in combination with the more forward track and redesigned sliding weights in the R15 helps to reduce spin by about 100 to 200rpm and increase launch by 0.5 to 1.0deg compared to the SLDR 460.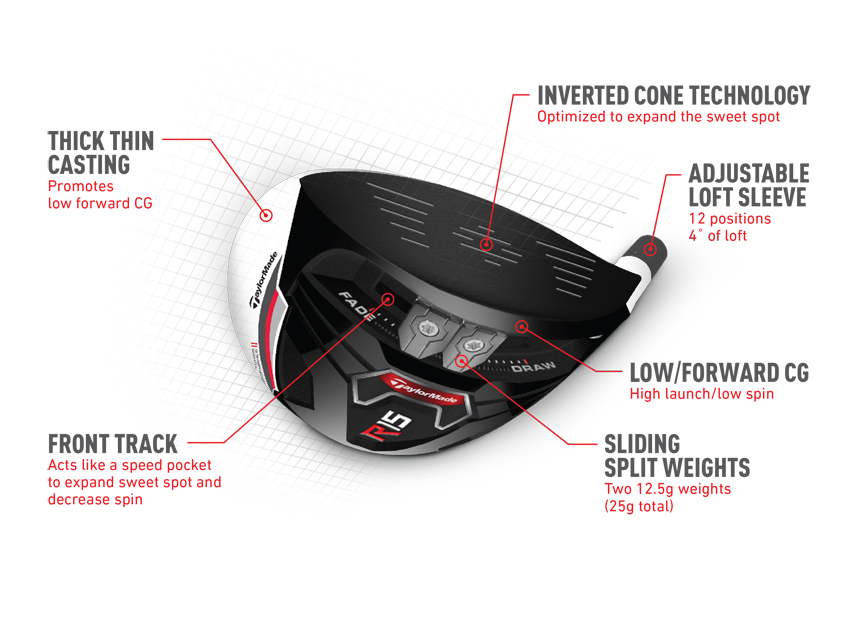 Details:
Center of Gravity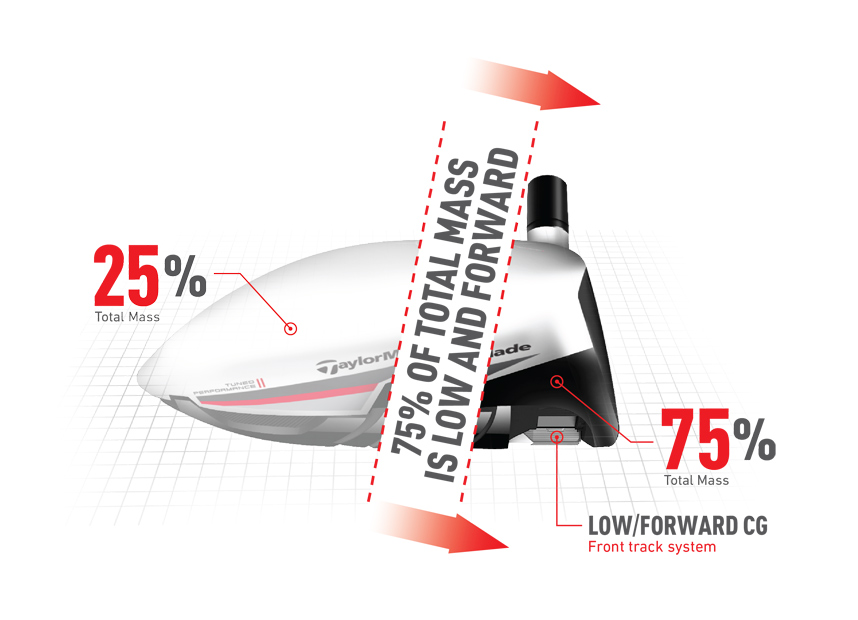 R15 has an even lower and more forward CG thanks to the Front Track system, which is 12mm closer to the leading edge with 40 more grams of weight forward. In total, 75% of the mass is in the front of the driver.
Front Track System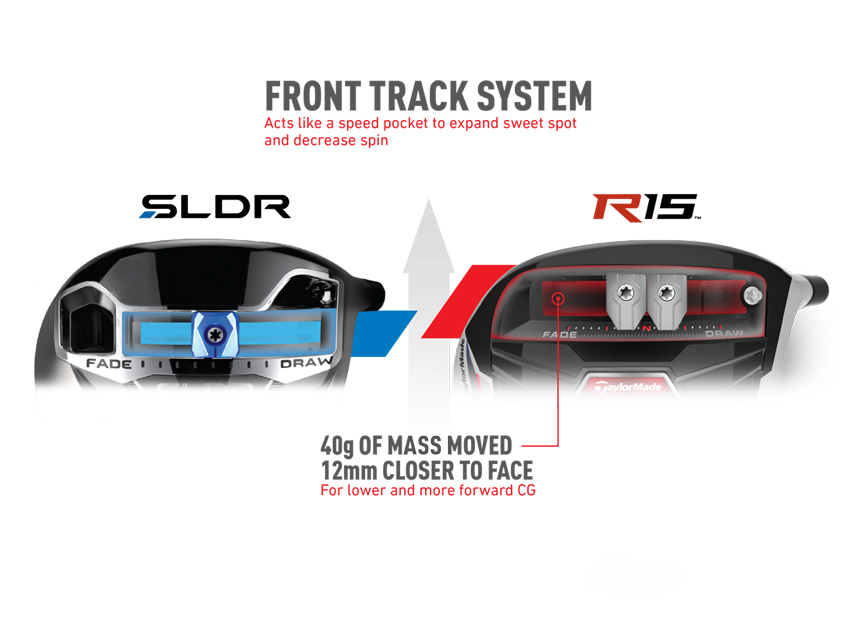 With its new Front Track system in R15, adjusting a TaylorMade driver has never been quicker or easier: Inside the track system are two sliding split weights that weigh 12.5 grams each (25g total). The R15 club head has 5g more discretionary mass to maneuver and is 4g lighter than the popular SLDR. Using the torque wrench, the golfer can loosen and slide the weights to the heel for a draw, to the toe for a fade or split for maximum stability.
Sliding Weights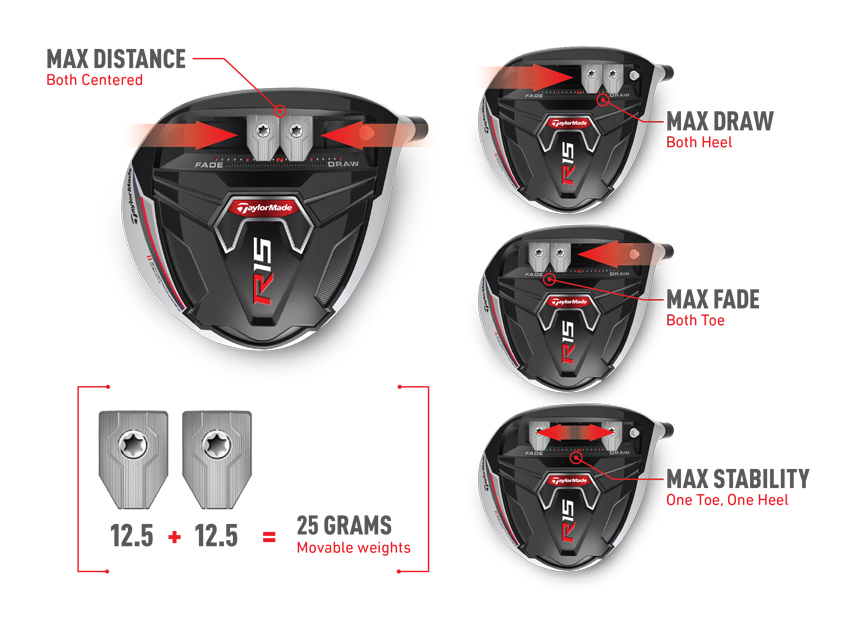 New sliding split weights: heel for draw, toe for fade, split for maximum stability (12.5g each / 25g total)
Loft Sleeve
4° loft sleeve for greater loft adjustability and opportunity to dial in your launch conditions. A simple rotation of the loft-sleeve system allows you to choose from 12 distinct settings that makes incremental changes in the lie and the loft/face angle. Together, the sliding split weights and loft-sleeve enable golfers to adjust their R15 driver with extreme precision.
Head Shape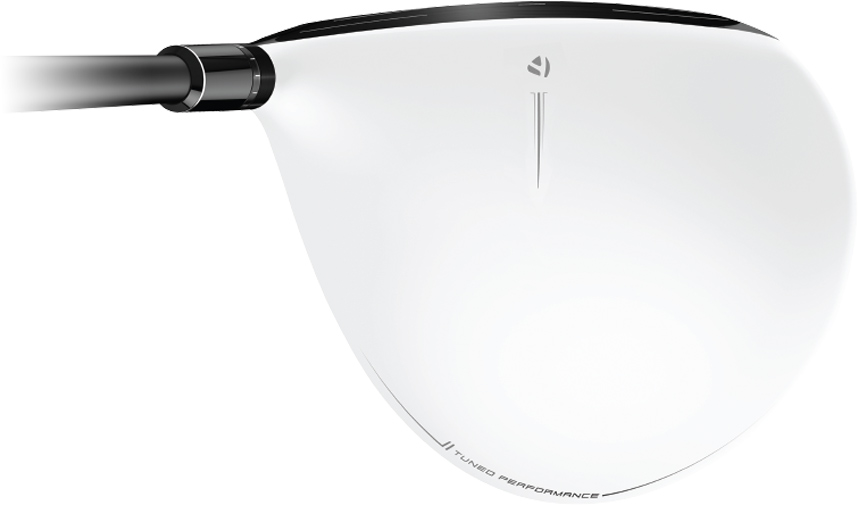 Beautifully sculpted pear shape with larger footprint and new satin white finish (also available in black). The larger, 460cc version of R15 is for the player seeking maximum forgiveness and confidence on the tee, while the R15 430 has a shape that strongly resembles some of the most coveted drivers from the company's past.
Standard Shaft: Fujikura's Speeder 661 Evolution
Standard Grip: Lamkin UTx
Several aftermarket shafts and grips are available to customize your R15 (call golfdiscount.com to place an order for a custom driver, 1-800-394-4653)
Reviews
Verified Reviewer
What is a
Verified Reviewer
A Verified Reviewer is a shopper who has confirmed an email address, or connected a social network with Yotpo, providing an added level of transparency and trust.
Verified Reviewer
What is a
Verified Reviewer
A Verified Reviewer is a shopper who has confirmed an email address, or connected a social network with Yotpo, providing an added level of transparency and trust.
Taylormade R15 460 TP
Taylormade might finally have found the combination of clubs that fits every player. I tried the R15 TP this week in the 460 head size and boy this might actually be a club I could play. I previously tried the 430 TP due to the smaller head size and didn't like the feel, however the 460 head is where it is at. My first few balls that I hit with the 460 were excellent but I knew that miss hit would come and I expected the same feeling as with the R15 430, however I got a softer feel for a miss hit I have not felt before. Between the two head this is the better head in my opinion! Look forward to getting more reps in with the R15!
On TaylorMade R15 460 TP Driver
Shipping
FREE SHIPPING
on orders over $99
$8.99 Flat Rate
on orders under $99
*PING Excluded from FREE Shipping. Shipping costs are for Ground Shipping to the contiguous United States
*Where FREE 3-Day Shipping is specified on new product launches, this shipping method only applies to that specific product. The rest of the products in the order may ship standard ground unless otherwise specified.
Online Shipping Information (United States)
GolfDiscount.com is proud to use FedEx as its primary shipping provider. All packages shipped via FedEx include shipping insurance as part of the quoted price. Packages are protected 100% until the merchandise arrives and is signed for by you. We offer FedEx Ground Shipping to the Contiguous 48 states. All FedEx shipment times are quoted in business days, as neither FedEx Next-Day service nor FedEx 2-Day service ship or deliver on weekends or holidays.
Orders over $99.00 = *Free FedEx Ground shipping!
Orders under $99.00 = Ground shipping only $8.99
*Please note that the free shipping option excludes PING merchandise due to MFR restriction.
Orders with out of stock products
We do our best to reflect accurate inventory on the website but on occasion some items may be out of stock. If an order with multiple products includes a product that is out of stock, the out of stock item will be removed and we will ship the in-stock items. This will allow us to get your order delivered quickly without delay! Questions? Call us at 1-800-394-4653.
International Shipping
GolfDiscount.com can ship almost any item we carry in stock internationally. From Canada, to Europe, to Australia and everywhere in between, we can provide rate estimates and service to international customers. International shipping prices will be calculated during checkout, but if you would like to estimate shipping costs prior, please use our sales team at 1-800-394-4653.
Express Shipments
We are also proud to offer FedEx Next Day and 2-Day Air at the lowest possible rates attainable. Rates vary depending on the dimensional weight and destination of the shipment.
Hawaii and Alaska Shipments
FedEx Next Day and 2-Day Air are available for customers looking to have products shipped to Hawaii or Alaska.
Processing Times
Orders completed by 12PM PST (3PM EST) ship out same day! All other orders will be processed and fulfilled within one business day. Drop Ship products and orders completed on Saturdays require additional processing time.
PO Boxes and APO Shipments
GolfDiscount.com gladly ships to PO Boxes and APO addresses through USPS.
Additional Shipping Information
Canadian and International Orders