The R15 Rescue is designed to enable better playability no matter what the lie, with a new Tour-inspired shape and smaller footprint.
R15 Rescue
Made of Greatness.
The R15 Rescue clubs have been refined by extensive input from athletes to be suitable for the best players in the world. Similar to the original Rescue club from TaylorMade, the new R15 has a "peanut" head shape, commonly preferred by Tour Staff professionals. This smaller shape (99cc) offers more versatility than a conventional size hybrid and is preferred by players who like to shape their shots.
TaylorMade has also incorporated an open channel Speed Pocket into the R15 Rescue club, which promotes more ball speed and reduced spin. Built with the new Fujikura Speeder 77 Evolution shaft, the club also features a 3-degree loft sleeve allowing the golfer to customize distance gaps. TaylorMade engineers worked to ensure this club has a more neutral biased ball flight which guards against left misses that can sometimes occur with hybrid clubs designed for higher handicap golfers.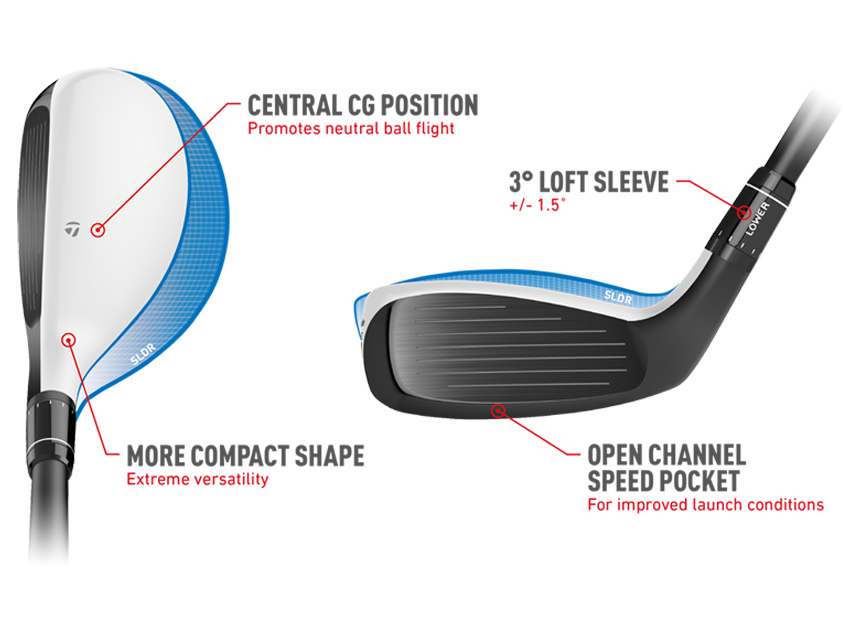 Details:
Center of Gravity

R15 has a central CG which ensures a more neutral ball flight even on mis-hits.

Compact Shape

With its super compact shape, the R15 Rescue has a peanut shaped head that offers more versatility than a conventional hybrid, and will allow you to shape your shot just how you want it.

Loft Sleeve

3° loft sleeve for greater loft adjustability and opportunity to dial in your launch conditions. A simple rotation of the loft-sleeve system allows you to choose from 9 distinct settings that makes incremental changes in the lie and the loft/face angle.
Standard Shaft: Fujikura's Speeder 77 Evolution
Standard Grip: Lamkin UTx
Several aftermarket shafts and grips are available to customize your R15. Call golfdiscount.com at 1-800-394-4653 to place an order for a custom rescue hybrid today!
Specifications:

TaylorMade R15 Hybrid Expert Review
Written By: Bob Gomavitz
---
The Takeaway
This is the first TaylorMade hybrid (rescue) that seems to be infused with the Adams blood lines, since their acquisition of Adams. The shape is more Tour inspired and slightly smaller(98cc) than past offerings(103cc). Additionally, this club's adjustability allows up to 3 degrees of different settings. This adjustability gives players a hybrid that can be really flexible. Through my testing I found that the R15 produced a simple, solid feel with a more muted sound. Ball flight-wise, I saw a slightly lower, penetrating flight. Even though I saw a slightly lower flight, I was not concerned with a player's ability to elevate the ball quickly enough with the R15.
Who's It For?
The R15 is more of a player's hybrid with its small compact looks, boxy toe area and penetrating flight, which also makes it an excellent choice off the tee.
Final Take
Looking down I see more of an Adams shape than I see of the past TaylorMade rescues. I love the adjustability that comes with the R15 head. Being able to adjust face and lie angles are must for a player like myself. Add in a very solid feel and a consistent ball flight from shot to shot, and the R15 delivers the goods. TaylorMade has gone back to the White colorway with the R15 and some will like this, while others will not.
Read the 2015 Hybrid Guide