Description
R15 TP Fairway Wood
Made of Greatness.
Employs proven TaylorMade metalwood technologies that have been newly optimized (ICT, Thick Thin, moveable weight, loft sleeve). Low forward CG in combination with the more forward track and redesigned sliding weights in the R15 helps to reduce spin and increase launch.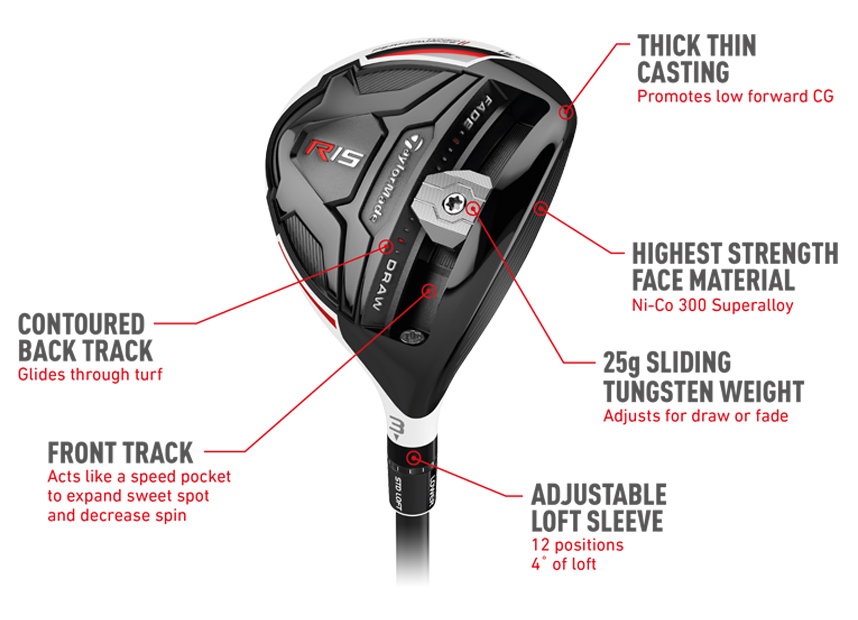 Details:
Center of Gravity

R15 has an even lower and more forward CG thanks to the Front Track system, which is 12mm closer to the leading edge with 40 more grams of weight forward. In total, 75% of the mass is in the front of the club.

Front Track System

With its new Front Track system in R15, adjusting a TaylorMade wood has never been quicker or easier: Inside the track system is a sliding split weight that weighs 25 grams. This system performs like a Speed Pocket, reduces spin and increases the size of the sweet spot.

Sliding Weights

Using the torque wrench, the golfer can loosen and slide the weight to the heel of the club for a draw, or to the toe for a fade.

Loft Sleeve

4° loft sleeve for greater loft adjustability and opportunity to dial in your launch conditions. A simple rotation of the loft-sleeve system allows you to choose from 12 distinct settings that makes incremental changes in the lie and the loft/face angle. Together, the sliding split weight and loft-sleeve enable golfers to adjust their R15 wood with extreme precision.
Standard Shaft: Fujikura's Speeder 757 Evolution
Standard Grip: Lamkin UTx
Several aftermarket shafts and grips are available to customize your R15. Call golfdiscount.com at 1-800-394-4653 to place an order for a custom wood today!
Specifications:

Reviews
Another Fariway Taylormade for You
The R15 has that great shape of a fairway, small and sleek. The small white head is not as distracting as some might think being that it is a different color than standard. Along with the white face is the technology Taylormade brings to all of its clubs. For myself this technology of changing ball flight is not really needed, but for the every day player it can be a life changer. I tried the 15 degree model and was really impressed. The head has a nice square face and a top line that is clean, just a simple alignment aid. After a couple of swings I started to get the feel for it and it has that baseball to bat feel, a nice thump. Turf interaction was pretty impressive as well, and out of the rough didn't really feel like there was any there to begin with. Trying the TP version of this club I can say that they choose a good shaft in the Speeder, being a stronger player I needed something to keep up with the club head speed and this did a great job. Taylormade made a great club here!
Shipping