Description
Tour Preferred MB Irons
Ultimate blade iron for the Golf Purist
The all new TaylorMade Tour Preferred MB irons are a precision-engineered muscle back design that offer the lastest in TaylorMade forging technology to provide you and your game the ultimate blade iron.
The Tour Preferred MB irons prominently feature soft, 1025 carbon steel precision forging with every curve, angle and line continually shaped-gauged through the production process for unmatched accuracy and consistency. The TaylorMade Tour Preferred MB irons also have beautifully crafted thin toplines that transition smoothly and seamlessly into the hosel along with a precision-shaped sole with substantially reduced camber at the request of Tour pros.
New grooves milled to ultra-exacting specifications give the new MC irons more spin and control from the rough and the Tour Preferred MB irons sport a tour preferred hand-polished satin nickel-chrome finish - making them as elegant to look upon as they are to put in play.
Far from irons designed for the casual weekend golfer, the TaylorMade Tour Preferred MB irons in the seasoned hands of any low-handicap golfer will have you loaded with TaylorMade's very latest competitive innovations and performance, matching your purist approach to the game stroke for stroke for countless seasons.
Specifications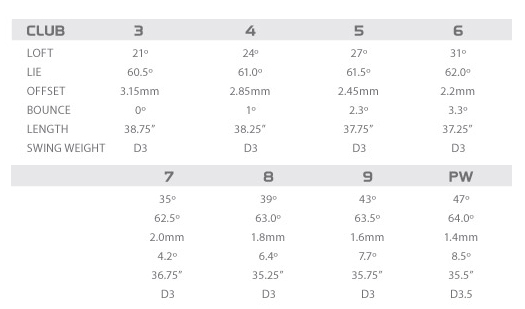 Reviews
Not just for accomplished players.
My club pro had demos of these irons and I decided to give them a try because I was dissatisfied with my game improvement irons. I'm glad I did! These clubs are superb in all respects. Players shouldn't dismiss blades out of hand just because they are "intended" for better players. Improving golfers can play well with these clubs and should give them a try if they're looking for new irons.
Shipping