Description
Tour Preferred CB Irons
All new ultimate blend of Speed and Precision
The all new TaylorMade Tour Preferred CB irons are a precision-engineered cavity back design that offer the lastest in TaylorMade SpeedPocket enhancements and are out to provide you and your game the ultimate union of speed and precision.
The Tour Preferred CB irons prominently feature TaylorMade's new convergance of art and science with their SpeedPocket technology in the 3- through 7-irons for significant increases in ball speed low on the iron's face in an effort to deliver more consistent ballspeed and launch conditions across the entire face of the CB iron. TaylorMade notes that stronger lofts are also inherent in the new Tour Preferred CB irons due to higher launch angles generated by the SpeedPocket giving an optimal combination of distance and controlled trajectory.
Freshly engineered and freshly facelifted with a tour preferred hand-polished satin nickel-chrome finish - the TaylorMade Tour Preferred CB irons are the latest of the latest and loaded with a superb blend of art and science. With their beautifully shaped sole that gives better players more effective bounce, and compact and elegant head shape the Tour Preferred CB irons are all about maximum performance. In the seasoned hands of any low-handicap golfer, the new Tour Preferred CB irons will have you loaded with TaylorMade's very latest competitive innovations sure to provide your game the ultimate performance blend.
Specifications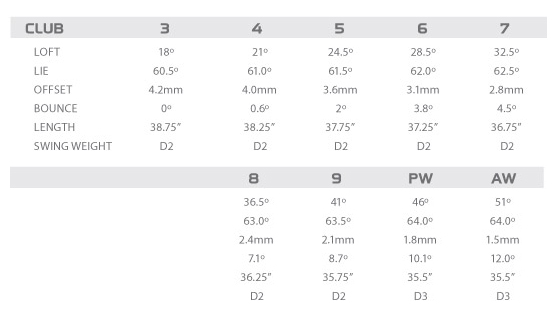 Reviews
Forged cavity back irons - simply supurb
It is a pleasure to use forged irons (first time in 25 years playing) - even my odd mishits don't frustrate me|I play competition golf 2-3 days a week & believe me I feel I can go lower with my handicap with the help of these new irons. |Sweet shots come off the club 'flush" with very little effort compared to my previous cast irons.|Do yourself a favour & trial these CB forged irons - you won't r
Shipping