Description
Kalea Fairway Wood
Completely Yours
Light-weight clubs generate more club head speed, low-kick Slim Tech shafts launch the ball higher, and Speed pockets add ball speed for shots that fly farther and stay in the air longer.
Inspired by an independent, active and outdoor lifestyle, Kalea's fresh design flows through each and every club, resulting in stylish elegance throughout the set.
Kalea was specifically engineered to optimize distance gaps from driver through wedge, ensuring that you will use every club in your bag.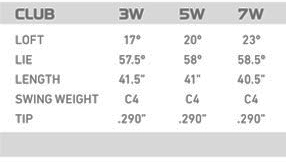 Guaranteed lowest price on Closeout TaylorMade Women's Kalea Fairway Wood and all TaylorMade Kalea Closeouts with Free Ground Shipping on orders over $99.
Reviews
Great 3 wood
This club is easy to hit. I like the fact that the shaft is shorter than my Taylprmade 3 wood. Great price and quick delivery!
Love this club!
I'm getting more distance and accuracy. It's lightweight and easy to swing.
Kaylea Clubs
Great clubs. Easy ordering
Great prices and service!
My new clubs were delivered very quickly and I love them. Excellent price, even less than demo day at my club. Also a big savings with no tax or shipping. I'll shop here again!
Shipping