Description
Titleist 718 AP3 Irons
Expect more from your iron game.
The all-new Titleist 718 AP3 irons truly represent the best of both worlds. Everything Titleist has learned from creating and advancing their AP1 and AP2 irons merged to create their longest, fastest player's iron ever. It's the player's distance iron.
Played by:
Jimmy Walker (2016 PGA champion)
Bill Haas (six wins on PGA Tour)
Byeong-Hun An (winner on PGA Tour and European Tour)
Jason Kokrak (two wins on Web.com Tour)
"AP3 truly represents the best of both worlds. We're giving you the distance and forgiveness of a game improvement iron packed into the look and feel of a player's iron."
–Josh Talge, Titleist Golf Clubs
Hollow-Blade Construction and Unsupported L-Face Insert
These two design features work together to produce high and long iron shots with plenty of spin to stop your golf ball on the putting surface, even from long range.
High MOI Design
A higher MOI that enables fast ball speeds across the club face for game-improvement-iron distance on off-center hits.
Preferred Shape
The AP3 offers distance and forgiveness in a shape that inspires confidence, whether admiring this iron in your golf bag or when you address the ball.
‌
Specifications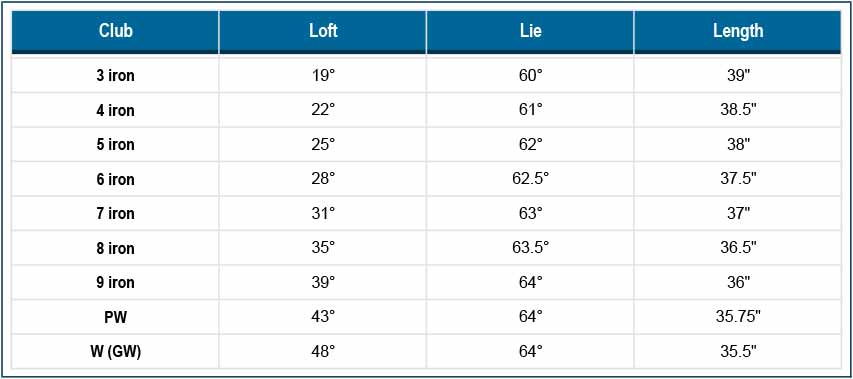 Reviews
Great Experience
Everything about the transaction was just as it was described prior to pressing the buy button. Love the AP3s - took a few rounds to adjust but they are fantastic. Will not hesitate to do business with GolfDiscount again.
Great Irons
These Irons have been really good. I love how they hit, and they're really light. Would definitely purchase again.
Some of the I have
Some of the I have ever played
Tiltleist AP3 Irons
These clubs are well balanced and the grips are well made. They have increased my distance and they look great. I highly recommend these clubs!
Titleist AP3 Irons
Irons came directly from Titleist. They are insanely nice and I got them at a great price.
AP3's
I'm 60 years old and play to a 12 handicap, As a long time Taylormade player, I just made the switch from the "player improvement" line of irons to the Titleist AP3's. I've gained clubhead speed as well as distance throughout the line. I actually ordered a mixed set, getting the 4 - 5 - 6 AP1's and AP3's 7-8-9-PW-AW all with Project X psi 5.5 shafts. WOW ! The look, feel and performance is incredible. Having played only one round thus far, need to dial in the yardage a bit. Thank You, Titleist great product as always !!.
Ap3 could be the best iron titleist has ever made
Ive been playing titleist since i was in college in 73' in Indiana and have played the cb's, mb's, ap2's and then stuck with 4 different versions of the ap2's. I purchased the ap3's last week and played 5 rounds with them so far and im telling you that these clubs are almost heaven to hit. I'm getting a bit up there in age but im hitting these further than my 716 ap2's and i can work it cut, draw, low, high and stop it on a dime everytime. Unbelievable control and explosive distance along with great feel. Best clubs ive ever owned and probably the last set I'll ever buy. Cant get any better than these, no way!!
Shipping