Description
Vokey Spin Milled 5 Wedge
#1 Short-Game Wedge

Vokey Spin Milled 5 (SM5) wedges are the best performing wedges in the game, a result of Master Craftsman Bob Vokey's decades of research and collaborating with the world's best players, such as Adam Scott, Steve Stricker and Jason Dufner. Since 2004, Vokey Design wedges have been the #1 wedge on the PGA Tour and the most played wedge at every level of competitive golf.

"I've always said I have the best R&D facility in the world – the PGA Tour," Vokey said. "I worked closely with our team of craftsmen and engineers to apply everything I've learned from the best players in the world to Spin Milled 5. We've increased the spin. We've given players more control. And we've got a bounce and grind matrix that will provide the versatility and confidence to hit a variety shots around the green and get up and down more."

Titleist and their new Vokey SM5 wedges are giving golfers more tour-preferred grind and bounce options than ever before, as in 21 different loft/bounce/grind combinations and six tour-inspired sole grinds, as well as more spin from their larger third-generation Spin Milled grooves. Two different performance configurations of the new Spin Milled TX3 grooves feature 17 precise, individually cut and 100-percent inspected grooves that continue to push the conforming limits of effective edge radius for increased backspin. With more bounce and sole grind options, as part of an industry-leading model matrix, the new Vokey SM5 wedges provide the versatility for improved shotmaking, giving players the confidence to execute more shots around the green.

The Vokey SM5 Tour Chrome wedge also sports a new, brighter chrome that has a dark blast face for better contrast and framing, a soft nickel layer base for feel and rust prevention, and a thin top chrome layer for durability.


SM5 Sole Grind Descriptions
L Grind: Narrow crescent sole with small forward bounce surface and minimal camber. Swing type: Slider. Condition type: Firm.
T Grind: Dual bounce sole with wide trailing bounce surface. Swing type: Slider/Neutral. Condition type: Firm/Medium.
S Grind: Full sole with straight trailing edge ribbon and moderate heel relief. Swing type: Slider/Neutral. Condition type: Firm/Medium/Soft.
M Grind: Crescent sole with narrow forward bounce surface and moderate camber. Swing type: Slider/Neutral. Condition type: Firm/Medium.
F Grind: Full sole with moderate camber and small trailing edge ribbon. Swing type: Slider/Neutral/Digger. Condition type: Firm/Medium/Soft.
K Grind: Wide sole with increased bounce and enhanced camber. Swing type: Neutral/Digger. Condition type: Medium/Soft.
Specifications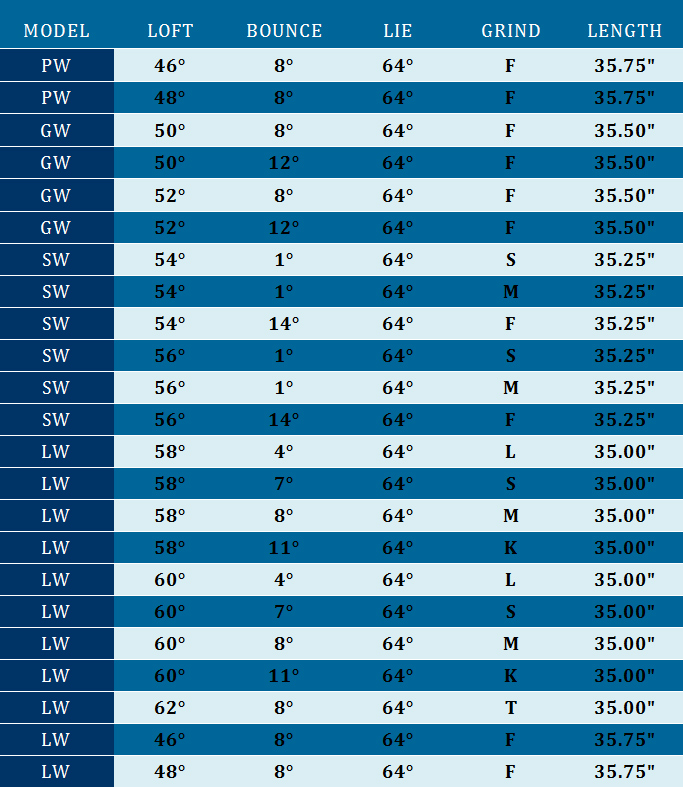 Reviews
Sudden Stop
What I like most about this wedge is the ability to lob a ball and have it stop on a dime. Awesome!
Great Shirts
Bought four shirts Addidas feel and look great. Prices were unreal. Thanks
Boleyn SM5
Great Product, Great Service
wedge
Greg product, great service
Great looking wedges, solid feel
Great looking wedges, solid feel
Titliest Vokey SM5 Wedges
I ordered three wedges in all three finishes. I love the look of the wedges and you will definitely tell the difference in your short game. I wish that all the grinds were offered in all the finishes, but otherwise great product and timely shipping!
Great wedge addition.
Just bought a set of Titleist 716 AP1'S and determined I needed a little loftier wedge for around the greens and sand traps. So far thrilled with the results. Got the 56 ° with 10 bounce and S grind.
golf discount
Awesome site, buy all my clubs from here.
Best Wedge Ever!
This is the best wedge ever I have used! I'm going to change my other wedge to this.
Shipping