Description
Vokey Spin Milled 6 Wedge
Technology To Perform.
Player Benefits
Progressive center of gravity - Aligns the CG with the impact position of each loft throughout the wedge set to produce precise distance and trajectory control with exceptional feel.
Tour Validated Grinds - Bob's tour proven grinds prodide every player with enhanced shot versatility to fit their swing type and course conditions.
TX4 Grooves - The 100% inspected grooves feature a new parallel face texture that creates a more consistent groove edge and tighter quality tolerances for more spin.
SM6 Sole Grind Descriptions
L Grind (Low Bounce): Enhanced heel, toe and trailing edge grind provides maximum versatility best fit for firm playing conditions. Swing Type: Shallow/Sweeper. Condition Type: Firm
M Grind (Mid Bounce): Heel, toe and trailing edge grind provides maximum versatility around the greens. Swing Type: Shallow/Sweeper | Neutral. Condition Type: Firm | Medium
S Grind (Mid Bounce): Trailing edge and heel grind provides stability on full shots while maintaining versatility around the greens. Swing Type: Neutral | Steep/Digger. Condition Type: Medium | Soft.
F Grind (Mid/High Bounce): A traditional full sole with medium to high bounce, the F Grind is an all purpose wedge, particularly suited for full shots. Swing Type: Shallow/Sweeper | Neutral | Steep/Digger. Condition Type: Firm | Medium | Soft.
K Grind (High Bounce): The wide sole provides for excellent bunker play, while camber enhances greenside shot versatility. Swing Type: Neutral | Steep/Digger. Condition Type: Medium | Soft.
(46-52): Lower CG increases energy transfer efficiency for ball speed & feel
(54-56): Mid CG position improves distance and trajectory control
(58-62): Higher CG tightens distance dispersion for gapping and flight control
Specifications
Shaft: Steel, True Temper Dynamic Gold
Grip: Golf Pride BV Wings Tour Velvet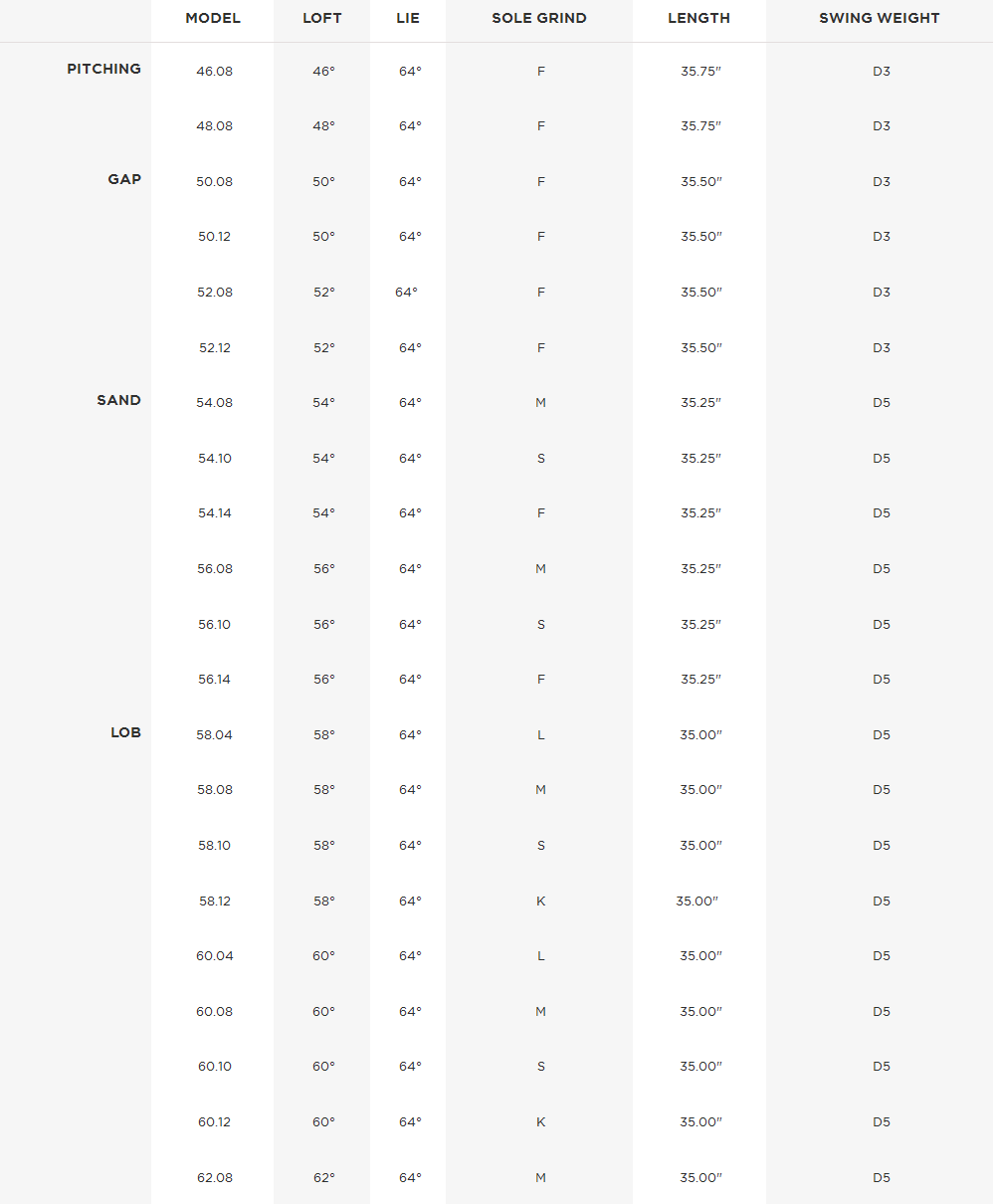 Reviews
62° Spin milled wedge
Perfect club for me for 80 yards stops on a dime will spin back on greens were A little slope ,Excellent we're close and flop shot also!
Trusty
One of the best in the industry.
Great feel
Very balanced club swings like butter deadly from 80 yards black is holding up well I have at least 150 shots with the club that's why I buy Titleist
Nice sole
The k grind sm6 has a nice sole and seems to provide greater distance on my approach shots within 100yds than my old sm 4 58*. Liking the new grooves, which helped me score well on the fast, crowned Donald ross greens at Mid Pines, NC
Excellent Addition to my Short Game
I have really enjoyed using my new Vokey 56 degree wedge. It has been invaluable around the green and is accurate with good feel. I have been able to drop short chips closer to the pin, which has helped my putting. The price was also very good, especially when compared to the value. I would certainly recommend this wedge series to anyone who is looking to upgrade.
Vokey sm6
Awesome club. Great feel. Great bite on the ball. Excellent price
Uhh... It's a Voley wedge... nuff said
This wedge is amazing. Great price and very fast shipping. I'm looking forward to ordering more
Titleist wedge
Phenomenal wedge. Spin, no spin, what ever u want. Truly my favorite club in the bag.
SM6 Vokey
Bought 2 black raw finish SM6 vokeys. They came with plastic on the head and grip. Brand new. For cheap!!!
Great Price
Good quality at a good price
Great Wedges
These clubs look awesome and play as you would expect from a Vokey wedge.
The right wedge
It took me about 3 different wedges and a club fitting....however it's surprising how the right club and ball make all the difference. My first round playing the wedge was a little frustrating because I wasn't used to the amount of spin this club puts on the ball....so in turn, I was leaving everything short. Next round, I knew what to expect and scrambled much better around the greens. Very happy with this club and the price I paid at Golf Discount
Great wedges!
Solid wedges when new, but I find that the grooves wear out faster than comparative wedges from other brands.
Titleist vokey sm6 wedges 54*-58*
Very pleased with the set! I've been hot and cold with Vokeys in the past, and have been playing non conforming grooves until this year! Good feel, and spin on full & partial shots. Look great from address, very well balanced/weighted wedges! Would purchase again. Fast shipping from Golf discount too.
Best 60 degree wedge
Not only looks great but performs great. Great price too!
Stellar feel
I bought these wedges the 56 and 52 degree about a month ago and the control and feel they have around the greens is superb. After a month of using them I feel supremely confident hit shots from 60 to 120 yards. Great product.
Vokey Wedge
Very happy with my 56 degree wedge with the specifications set for my swing type- had a pitch in birdie out of a horrible lie in my last tournament when I thought an up and down was going to be out of the question
Titleist SM6
Service, price, postage and item purchased 5 Star. 👍👍 Would highly recommend them, everytime.
Wedge
switched from a black Cleveland to the titleist jet black wedge with high bounce, noted difference in clean contact immediately I typically take very shallow diviots and the bounce works much better, I have now replaced my other wedges to similar bounces, however I did go to the all black titleist and they look good in the bag also
Awesome
Great wedges! Only issue is that I ordered with one day shipping, they were not shipped timely.
Very nice feel
Great club, excellent feel with these SM6 wedges. And the Black is a nice look as well
Pin Seeker
This wedge is a birdie machine. The flat black looks phenomenal and Vokey performance is the best.
Vokey Wedge
Good price..good service.
Great service and great club
I'll be a repeat customer
Shipping