Description
Vokey SM7 Jet Black All Black Wedge
Limited Edition
Improving in all three areas of wedge performance, new SM7 models provide increased shot versatility with expanded fitting options, improved distance and trajectory control, and more spin through precisely tuned CG locations and tighter Spin Milled grooves.
This special edition all black wedge features a blacked out head with Dynamic Gold S200 Black Onyx shaft and blacked out Bob Vokey grip.
Precise Distance and Trajectory
SM7 features a progressive center of gravity optimized for each loft, bounce, and grind for improved distance control, tighter shot dispersion, and exceptional feel throughout the wedge set. CG gets lower in the low lofts and higher in the high lofts to produce consistent ball flight and trajectory control.
Spin Milled Grooves
Spin Milled technology provides players with maximum spin, control, and consistency. SM7 wedges feature a Parallel Face Texture for tighter quality tolerances and maximum spin. SM7 also features a distinct groove design between lofts: low lofts (46-54) are designed with narrower, deeper grooves, while higher lofts (56-62) have wider, shallower grooves. The result is superior spin and control on all wedge shots. Additionally, a proprietary heat treatment process produces best-in-class groove durability for longer lasting spin.
Tour-Proven Sole Grinds
Played, proven, and perfected on Tour, Vokey wedge grinds are the game's benchmark in creating shot versatility for any level of player in any type of condition. F, S, M, K, L and the new D grind – allow golfers of all skill levels to be precisely fit for their swing type, shot making style and course conditions.
Need some help?
Unsure which wedges are best for you? Titleist has developed an exceptional tool that walks you through your game and playing conditions to determine the best lofts, grinds and bounces.
Titleist Wedge Selector
F Grind: Full sole designed primarily for full swings and square face shots. For that reason, F is the only grind available in the 46°-52° models. The 54°/56° F Grind is the most played sand wedge on the PGA Tour.
M Grind: Vokey's favorite, the M grind is designed for players that like to rotate the club face open and shut to manufacture shots around the green.
S Grind: Design based on feedback from Steve Stricker, the S is best for square faced shots with a touch more versatility than the F Grind. Simple mechanics are best with this wedge.
D Grind: The player's high bounce wedge, the new D Grind offers high measured bounce with the crescent shape of the M Grind for shot making versatility.
K Grind: The highest bounce wedge in the lineup, the K Grind is the ultimate bunker club and the most forgiving wedge in the lineup for all shots.
L Grind: The L Grind features a narrow crescent shape allowing maximum green side versatility, but it is the least forgiving wedge in the lineup.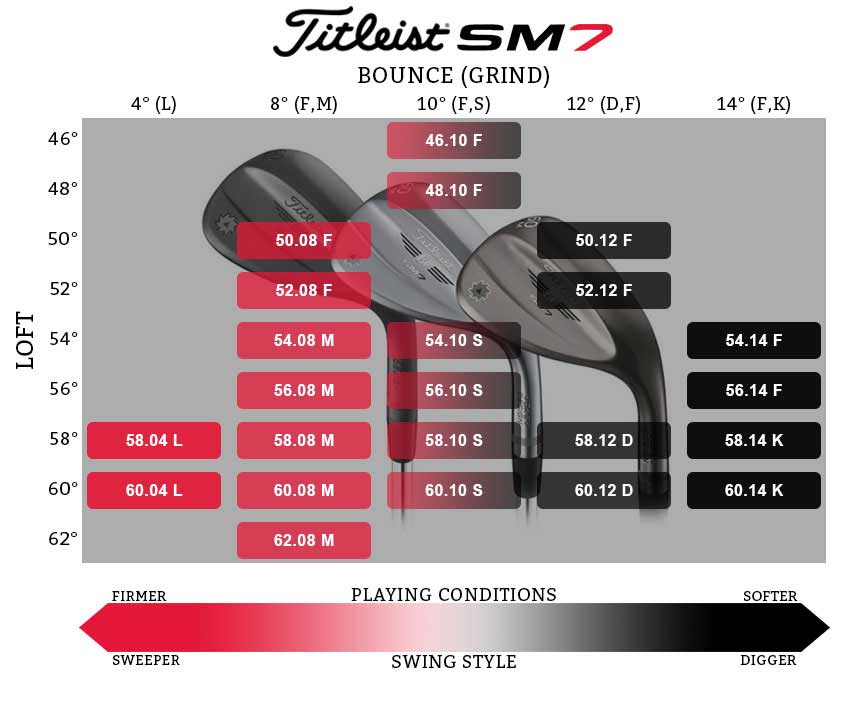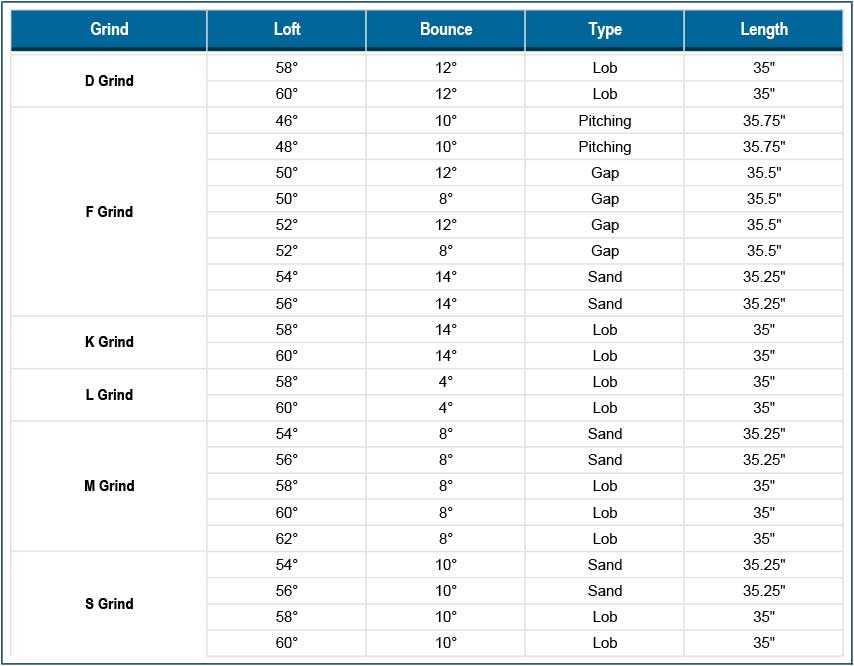 Expert Review
Learn more from golf expert: Titleist Vokey SM7 Wedges Review
Reviews
Vokey (Jet Black edition) SM7 58° M-Grind
The best wedge I've ever hit. Great price and fast shipping. Seller is thumbs up! 👍
Great wedges, love the black
Great wedges, love the black shafts.
Vokey SM7 Custom's
I recently purchased a set of three custom Vokey sm7 wedges from Golf Discount.com and as always the delivery is super fast and I received exactly what I ordered. In Australia, so stoked. I can honestly say that every single golfer who's hit a ball with my clubs was left so impressed. From mid handicappers like myself even a couple of the club pro's. Everyone had something complimentary to say, whether it was the control, workability or the stopping power (oh the stopping power!) Or even just the balance feel and weight of the clubs really is something people need to try out for themselves. Plus the all black models are without doubt the best looking clubs you'll find. Cheers Boys 👊 Tony. Palm Meadows, Australia.
Vokey performance in a blacked out look...
Same amazing Vokey performance and feel in an amazing blacked out finish. The look and feel in your hands is as good as it gets...
Shipping