Description
Details
Vokey Spin Milled 5 Wedge
#1 Short-Game Wedge

Vokey Spin Milled 5 (SM5) wedges are the best performing wedges in the game, a result of Master Craftsman Bob Vokey's decades of research and collaborating with the world's best players, such as Adam Scott, Steve Stricker and Jason Dufner. Since 2004, Vokey Design wedges have been the #1 wedge on the PGA Tour and the most played wedge at every level of competitive golf.

"I've always said I have the best R&D facility in the world – the PGA Tour," Vokey said. "I worked closely with our team of craftsmen and engineers to apply everything I've learned from the best players in the world to Spin Milled 5. We've increased the spin. We've given players more control. And we've got a bounce and grind matrix that will provide the versatility and confidence to hit a variety shots around the green and get up and down more."

Titleist and their new Vokey SM5 wedges are giving golfers more tour-preferred grind and bounce options than ever before, as in 21 different loft/bounce/grind combinations and six tour-inspired sole grinds, as well as more spin from their larger third-generation Spin Milled grooves. Two different performance configurations of the new Spin Milled TX3 grooves feature 17 precise, individually cut and 100-percent inspected grooves that continue to push the conforming limits of effective edge radius for increased backspin. With more bounce and sole grind options, as part of an industry-leading model matrix, the new Vokey SM5 wedges provide the versatility for improved shotmaking, giving players the confidence to execute more shots around the green.

The Vokey SM5 Tour Chrome wedge also sports a new, brighter chrome that has a dark blast face for better contrast and framing, a soft nickel layer base for feel and rust prevention, and a thin top chrome layer for durability.


SM5 Sole Grind Descriptions
L Grind: Narrow crescent sole with small forward bounce surface and minimal camber. Swing type: Slider. Condition type: Firm.
T Grind: Dual bounce sole with wide trailing bounce surface. Swing type: Slider/Neutral. Condition type: Firm/Medium.
S Grind: Full sole with straight trailing edge ribbon and moderate heel relief. Swing type: Slider/Neutral. Condition type: Firm/Medium/Soft.
M Grind: Crescent sole with narrow forward bounce surface and moderate camber. Swing type: Slider/Neutral. Condition type: Firm/Medium.
F Grind: Full sole with moderate camber and small trailing edge ribbon. Swing type: Slider/Neutral/Digger. Condition type: Firm/Medium/Soft.
K Grind: Wide sole with increased bounce and enhanced camber. Swing type: Neutral/Digger. Condition type: Medium/Soft.
Specifications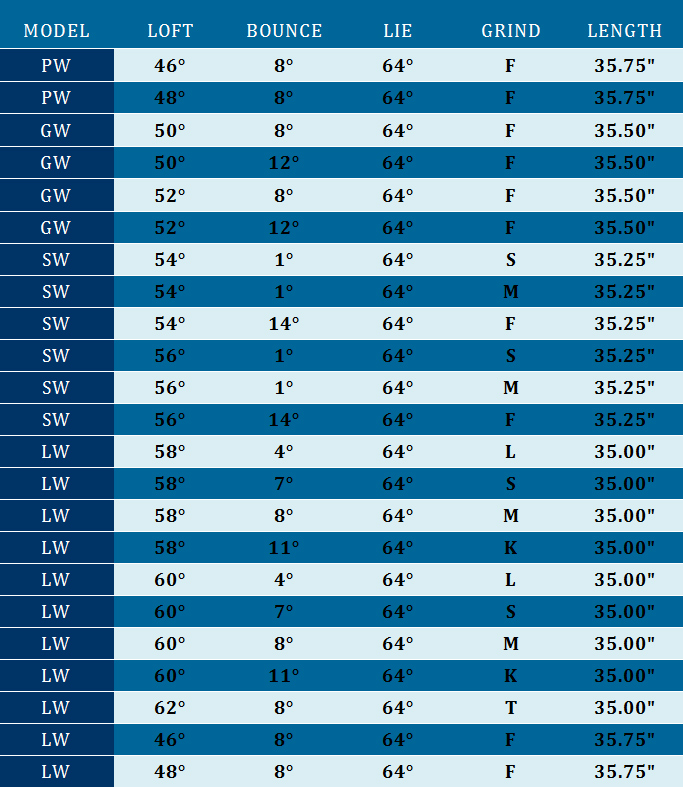 Reviews
Shipping
FREE SHIPPING
on orders over $99
$8.99 Flat Rate
on orders under $99
*PING Excluded from FREE Shipping. Shipping costs are for Ground Shipping to the contiguous United States
*Where FREE 3-Day Shipping is specified on new product launches, this shipping method only applies to that specific product. The rest of the products in the order may ship standard ground unless otherwise specified.
Online Shipping Information (United States)
GolfDiscount.com is proud to use FedEx as its primary shipping provider. All packages shipped via FedEx include shipping insurance as part of the quoted price. Packages are protected 100% until the merchandise arrives and is signed for by you. We offer FedEx Ground Shipping to the Contiguous 48 states. All FedEx shipment times are quoted in business days, as neither FedEx Next-Day service nor FedEx 2-Day service ship or deliver on weekends or holidays.
Orders over $99.00 = *Free FedEx Ground shipping!
Orders under $99.00 = Ground shipping only $8.99
*Please note that the free shipping option excludes PING merchandise due to MFR restriction.
Orders with out of stock products
We do our best to reflect accurate inventory on the website but on occasion some items may be out of stock. If an order with multiple products includes a product that is out of stock, the out of stock item will be removed and we will ship the in-stock items. This will allow us to get your order delivered quickly without delay! Questions? Call us at 1-800-394-4653.
International Shipping
GolfDiscount.com can ship almost any item we carry in stock internationally. From Canada, to Europe, to Australia and everywhere in between, we can provide rate estimates and service to international customers. International shipping prices will be calculated during checkout, but if you would like to estimate shipping costs prior, please use our sales team at 1-800-394-4653.
Express Shipments
We are also proud to offer FedEx Next Day and 2-Day Air at the lowest possible rates attainable. Rates vary depending on the dimensional weight and destination of the shipment.
Hawaii and Alaska Shipments
FedEx Next Day and 2-Day Air are available for customers looking to have products shipped to Hawaii or Alaska.
Processing Times
Orders completed by 12PM PST (3PM EST) ship out same day! All other orders will be processed and fulfilled within one business day. Drop Ship products and orders completed on Saturdays require additional processing time.
PO Boxes and APO Shipments
GolfDiscount.com gladly ships to PO Boxes and APO addresses through USPS.
Additional Shipping Information
Canadian and International Orders