Description
Tour Series V5 Graphite/Steel 10 Club Package Set
Advanced clubs for advanced to intermediate players.
The new Tour Series V5 graphite/steel ten club package set features TOUR SERIES clubs that are designed for the intermediate to advanced golfer with more clubhead weight and longer, stiffer shafts and are made from the same high-tech materials as leading brand adult equipment. The Tour Series V5 10 club package set also includes a full-featured dual strap stand bag for easy course carry.
The Tour Series V5 package set features clubheads five percent lighter than adult clubheads and the V5 shafts are frequency matched with a low flex point for optimal ball flight. The Tour Series V5 driver is a white driver with a durable and visually appealing PVD finish that promotes driver confidence, the wood and hybrids feature stronger head weight and shaft flex, the wedge has the latest in latest in high spin technology and the V5 steel irons have an new improved head design with optimal weight distribution for straighter, more accurate shots.
The Tour Series V5 package set is a sure top-notch player for any accomplished youth or junior looking to improve their game and enjoyment.
Features
V5 clubhead model 5% lighter than adult
Graphite shaft Release 440 Driver
Graphite shaft 3 Wood and 4 Hybrid
Steel shaft 5 thru 9 iron, PW and SW
Full-featured dual strap stand bag
Fitting note:
Be sure to use player's height (in shoes) to determine proper club size +/- one inch (see chart).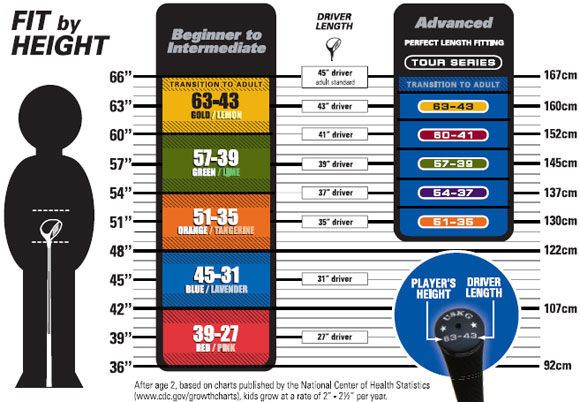 Guaranteed lowest price on US Kids Golf TS V5 Graphite/Steel 10-Club Package Set and all US Kids Golf Junior's with Free Shipping on orders over $99 at Golf Discount, your favorite authorized US Kids Golf retailer.
Reviews
I love it. It 's
I love it. It 's very good for my son. He enjoyis to playing with thems and get better.
Amazing Set of Clubs!
I was hesitant to purchase because of the previous review so I called GolfDiscount and they gave me all the specs. They are perfect for my child. Very happy with the purchase!
Shipping