Description
XXIO Prime Fairway Wood
Longer Distance.
XXIO [zek-si-oh] is part of the Dunlop Sports Co. LTD family and brings the #1 golf brand in Japan to America. With a long standing tradition of premium golf clubs in Japan, Dunlop Sports is proud to announce the introduction of the XXIO brand to America. While American golfers may not be familiar with XXIO, the brand has experienced tremendous success in Japan and Korea.
The Prime is lighter, faster and longer than any XXIO ever before. Featuring XXIO's unique dual speed technology (DST), XXIO Prime offers the optimal balance of club head speed and weight for increased kinetic energy and faster initial velocity at impact. The result: more distance.
A newly developed, lightweight shaft with CG closer to the lightweight grip make the club lighter, decreasing the swing MOI for faster swinging and higher head speeds. The periphery of the face is thinner for a more consistent and hotter performance over the entire face. What's more, the new cup face structure with a wider bend at the toe combined with the heel biased CG design expands the sweet spot, resulting in further flight distances.
The thinner crown and shallow-back shape allow the center of gravity to be positioned deeper while remaining low, making it easier to get the ball airborne quickly.
Specifications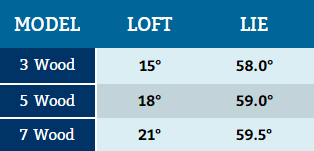 Shaft: SP-800 Carbon
Stiff/Regular Flex:
Bend Point: Mid
Weight: 40 grams
Torque: 6.3
Regular Flex:
Bend Point: Mid
Weight: 39 grams
Torque: 6.4
Reviews
Easy to hit.
Purchased as a closeout for a decent price. I was using a TM Burner 2.0 3 wood for a few years and could not get the ball into the air or hit consistently. Disclaimer, I am a very high handicap and very poor player. After receiving the XXIO Prime 3 wood, I was able to hit the ball from the tee (better than a driver) and the fairway with more consistency and distance. It is ideal for slower swing speeds as it is more of a senior flex than regular flex as advertised by the manufacturer. If you are a casual player and need some distance on your second shot on the par fives, or a mid-handicapper looking for something different, I would highly recommend trying one out. It is expensive, but IMHO, worth the extra cash.
Shipping